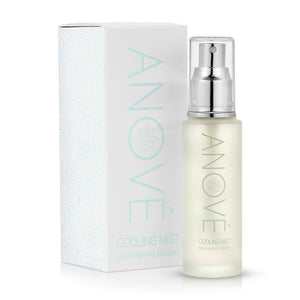 The Cooling Mist
Sale price Price $28.00 Regular price Unit price / per
Keep cool and carry on with this naturally uplifting and refreshing face spritzer!
When the summer heat or the stresses of the day make you hot and bothered, refresh your face with our minty Cooling Mist. The power of Peppermint and Spearmint Hydrosols soothes your skin and supercharges your senses. Your face will feel cool and hydrated.
We've added a host of happiness-boosting hydrosols to this perky cooling face spray!
Peppermint and Spearmint Hydrosols work in harmony to soothe your skin, delivering a sublime cooling effect while surrounding you with a fresh, invigorating scent. Chamomile is added to reduce bacteria and inflammation. Our face mist is both a gentle, natural way to cool and calm inflamed skin and a pick-me-up that revitalizes the mind and spirit!
Hot flashes, office dramas, or tropical weather – no matter what's causing you to feel the heat, this refreshing face mist will help you keep your cool. The minty-freshness will sharpen your focus and put a zing in your step too!
This is a natural face mist with double-duty benefits!
Handcrafted and cruelty-free, it keeps you cool and calm.
Directions: For a hydrating and uplifting refresher, spray onto face as needed.
Please Note: Due to the natural ingredients, color may vary slightly from batch to batch. For the best results use this product within 6 months of purchase.
Ingredients List: *Mentha Spicata (Spearmint) Distillate, *Mentha Piperita (Peppermint) Distillate, *Matricaria recutita (Blue Chamomile) Distillate , Lactobacilis, Cocos Nucifera (Coconut) Fruit Extract, Lactobacilis Ferment.
*Certified Organic
FAQ
For hydrating and uplifting refresher, spray onto the face as needed.
We ship orders that have standard shipping with UPS Ground which takes 1-5 business days. All expedited orders ship via UPS 2-day which takes 2 business days.
Due to the personal nature of our products we do not accept returns or exchanges at this time. However if you are unsatisfied please reach out to us and we will do everything in our power to help you find a product you love.